My Blog
Posts for: December, 2017
By Charles L. Sours, Jr. D.D.S.
December 23, 2017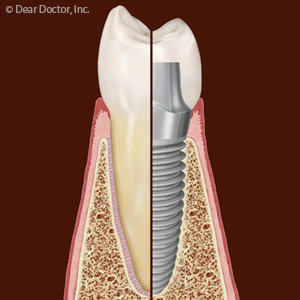 Dental implants have become the standard for long-term tooth replacement. From mechanics to movie stars, people from all walks of life have discovered the advantages of replacing a missing tooth with an implant. Obviously, restoring your smile is a definite advantage, but an implant can also help to maintain the health of your jawbone and adjacent teeth.
The implant is a small, screw-like titanium post that is placed into your jawbone to function as the root part of the tooth. The living bone tissue will actually attach to the titanium post, fusing them together. This will not only provide a sturdy anchor for a natural-looking crown, but will provide stability for bridgework or dentures. You will then be able to smile, chew and talk as if all of your teeth are natural. The procedure will also help to stabilize the bone, reducing long-term bone loss that occurs when a missing tooth is not replaced.
At this point, if you are thinking that there must be a lot of pain involved, I have good news for you. There is very little pain involved after the procedure is completed and no pain at all during the procedure. Typically, it is a routine surgery that takes place in a dentist's office under local anesthesia where the immediate area is numbed. If there is any apprehension at all about the procedure, we will offer alternative anesthesia or sedation options during the planning process.
To determine who will be a good candidate for the implant procedure, a plan must be in place to assure the success of the implant. Part of the plan includes:
Reviewing your past medical and dental history. We must know your complete past and present medical history and medication use, since good health is essential. There are certain conditions and diseases that can affect the healing of an implant.
Performing a comprehensive dental examination. An evaluation of your dental problems and needs will determine if implants are in your best interests. An assessment of the health and mass of the jawbone as well as the number and location of the implant(s) that are needed to restore your bite and smile back to health will also be determined.
When the implant procedure has been successfully completed, there is one more step. As with your natural teeth, preventive maintenance is crucial for long-term success. A daily routine of brushing and flossing along with regular professional dental cleanings and checkups will help ensure continued gum health and proper functioning of your implants.
If you are wondering whether dental implants are right for you, contact us for more information or schedule an appointment for a consultation. You can also learn more about dental implants by reading the Dear Doctor magazine articles "Dental Implants" and "Dental Implant Surgery."
By Charles L. Sours, Jr. D.D.S.
December 08, 2017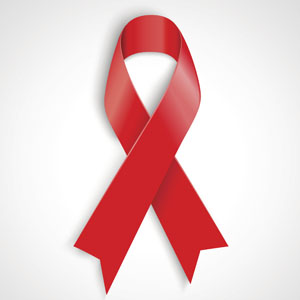 We've come a long way since the early 1980s when we first identified the HIV virus. Although approximately 35 million people worldwide (including a million Americans) now have the virus, many are living relatively long and normal lives thanks to advanced antiretroviral drugs.
Still, HIV patients must remain vigilant about their health, especially their oral health.  In fact, problems with the teeth, gums and other oral structures could be a sign the virus has or is moving into the full disease stage, acquired immunodeficiency syndrome (AIDS). That's why you or a loved one with the virus should maintain regular dental checkups or see your dentist when you notice any oral abnormalities.
One of the most common conditions among HIV-positive patients is a fungal infection called candidiasis (or "thrush"). It may appear first as deep cracks at the corners of the mouth and then appear on the tongue and roof of the mouth as red lesions. The infection may also cause creamy, white patches that leave a reddened or bleeding surface when wiped.
HIV-positive patients may also suffer from reduced salivary flow. Because saliva helps neutralize excess mouth acid after we eat as well as limit bacterial growth, its absence significantly increases the risk of dental disease. One of the most prominent for HIV-positive patients is periodontal (gum) disease, a bacterial infection normally caused by dental plaque.
While gum disease is prevalent among people in general, one particular form is of grave concern to HIV-positive patients. Necrotizing ulcerative periodontitis (NUP) is characterized by spontaneous gum bleeding, ulcerations and a foul odor. The disease itself can cause loosening and eventually loss of teeth, but it's also notable as a sign of a patient's deteriorating immune system. The patient should not only undergo dental treatment (including antibiotics), but also see their primary care physician for updates in treating and managing their overall symptoms.
Above all, HIV-positive patients must be extra diligent about oral hygiene, including daily brushing and flossing. Your dentist may also recommend other measures like saliva stimulators or chlorhexidine mouthrinses to reduce the growth of disease-causing bacteria. Together, you should be able to reduce the effects of HIV-induced teeth and gum problems for a healthier mouth and better quality of life.
If you would like more information on oral care for HIV-AIDS patients, please contact us or schedule an appointment for a consultation. You can also learn more about this topic by reading the Dear Doctor magazine article "HIV-AIDS & Oral Health."