My Blog
Posts for: February, 2019
By Charles L. Sours, Jr. D.D.S.
February 19, 2019
A toothache might mean you have tooth decay—or maybe not. It could also be a sign of other problems that will take a dental exam to uncover. But we can get some initial clues about the underlying cause from how much it hurts, when and for how long it hurts and where you feel the pain most.
Let's say, for instance, you have a sharp pain while consuming something cold or hot, but only for a second or two. This could indicate isolated tooth decay or a loose filling. But it could also mean your gums have receded and exposed some of the tooth's hypersensitive root surface.
While over-aggressive brushing can be the culprit, gum recession is most often caused by periodontal (gum) disease. Untreated, this bacterial infection triggered by accumulated dental plaque could eventually cause tooth and bone loss, so the sooner it's attended to the better.
On the other hand, if the pain seems to linger after encountering hot or cold foods and liquids, or you have a continuous throbbing pain, you could have advanced tooth decay that's entered the inner pulp where infected tooth nerves are reacting painfully. If so, you may need a root canal treatment to remove the diseased pulp tissue and fill the empty pulp and root canals to prevent further infection.
If you have this kind of pain, see a dentist as soon as possible, even if the pain stops. Cessation of pain may only mean the nerves have died and can no longer transmit pain; the infection, on the other hand, is still active and will continue to advance to the roots and bone.
Tooth pain could also indicate other situations: a cracked tooth, an abscess or even a sinus problem where you're feeling the pain radiating through the teeth. So whatever kind of pain you're feeling, it's your body's alarm signal that something's wrong. Promptly seeing your dentist is the best course of action for preserving your health.
If you would like more information on treating tooth pain, please contact us or schedule an appointment for a consultation. You can also learn more about this topic by reading the Dear Doctor magazine article "Tooth Pain? Don't Wait!"
By Charles L. Sours, Jr. D.D.S.
February 09, 2019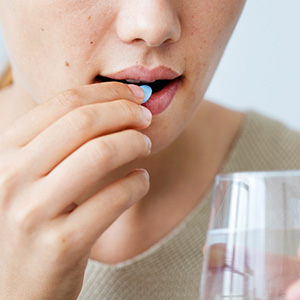 Placing a dental implant within the jawbone requires a surgical procedure. For most people it's a relatively minor affair, but for some with certain health conditions it might be otherwise. Because of their condition they might have an increased risk for a bacterial infection afterward that could interfere with the implant's integration with the bone and lead to possible failure.
To lower this risk, dentists for many years have routinely prescribed an antibiotic for patients considered at high-risk for infection to take before their implant surgery. But there's been a lively debate among health practitioners about the true necessity for this practice and whether it's worth the possible side effects that can accompany taking antibiotics.
While the practice still continues, current guidelines now recommend it for fewer health conditions. The American Dental Association (ADA) together with the American Heart Association (AHA) now recommend antibiotics only for surgical patients who have prosthetic heart valves, a history of infective endocarditis, a heart transplant or certain congenital heart conditions.
But patients with prosthetic joint replacements, who were once included in the recommendation for pre-surgical antibiotics, are no longer in that category. Even so, some orthopedic surgeons continue to recommend it for their joint replacement patients out of concern that a post-surgical infection could adversely affect their replaced joints.
But while these areas of disagreement about pre-surgical antibiotics still continue, a consensus may be emerging about a possible "sweet spot" in administering the therapy. Evidence from recent studies indicates just a small dose of antibiotics administered an hour before surgery may be sufficient to reduce the risk of infection-related implant failure with only minimal risk of side effects from the drug.
Because pre-surgical antibiotic therapy can be a complicated matter, it's best that you discuss with both the physician caring for your health condition and your dentist about whether you should undergo this option to reduce the infection risk with your own implant surgery. Still, if all the factors surrounding your health indicate it, this antibiotic therapy might help you avoid losing an implant to infection.
If you would like more information on antibiotics before implant surgery, please contact us or schedule an appointment for a consultation. You can also learn more about this topic by reading the Dear Doctor magazine article "Implants & Antibiotics: Lowering Risk of Implant Failure."