Benefits of Dental Veneers
Dental veneers offer a simple way to change the appearance of one tooth or all of them. Your Woodbridge, VA dentist - Dr. Charles Sours, wants you to know the benefits of veneers and how they can help dramatically enchance your smile.
Veneers hide imperfections
Veneers are thin pieces of porcelain that are attached to the front surfaces of teeth. Although they're no thicker than a fingernail, veneers easily conceal a range of dental flaws, including: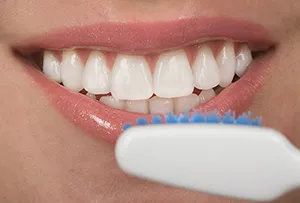 Slight gaps between teeth
Chips
Discolorations due to tetracycline use, large fillings or root canals
Crooked or oddly shaped teeth
Short teeth



Whitening your smile is easy with veneers
Eating and drinking brightly colored foods, such as coffee, tea, wine, cola, popsicles, and berries can stain your teeth. Although teeth whitening at your Woodbridge, VA dental office can improve the appearance of your smile, the results must be touched up occasionally, and whitening may not lighten your teeth quite as much as you expected. Veneers provide long-lasting results and allow you to choose the shade of white you prefer.
Caring for Your Veneers
Just like the teeth nature gave you, teeth restored with veneers need gentle brushing and flossing every day. This will remove dental plaque and ensure good gum tissue health around the veneers. Regular checkups at the Woodbridge, VA dental office will remain as important as always to your oral and general health. And keep in mind that as tough as veneers are, they may not be able to withstand forces that come from using your teeth as tools (to open packages, for example) or biting into very hard foods like candy apples — which isn't good for your natural teeth, either! And if you grind or clench your teeth at night, you might be advised to get a custom-made nightguard to protect your veneers — and your investment.
Are you interested in dental Veneers? Call Charles L. Sours, Jr. D.D.S. in Woodbridge, VA at (703) 491-2131 today!

Related Articles